Resistive Soil Moisture Sensor with Corrosion Resistant Probe
SKU:
ELC1093
₹ 399.99
₹ 599.99
-34% OFF
This soil moisture sensor module is used to detect the moisture of the soil. It measures the volumetric content of water inside the soil and gives us the moisture level as output. The module has both digital and analog outputs and a potentiometer to adjust the threshold level.
A waterproof sensor probe with high corrosion resistance ensures a lifetime of at least 6 months in the soil.
Package Includes
1x Soil Moisture Sensor Module

1x Sensor Probes
Soil Moisture

Sensor Module Features & Specifications
Operating Voltage: 3.3V to 5V DC

Operating Current: 15mA

Output Digital - 0V to 5V, Adjustable trigger level from preset

Output Analog - 0V to 5V based on infrared radiation from fire flame falling on the sensor

LEDs indicating output and power

PCB Size: 3.2cm x 1.4cm

LM393 based design

Easy to use with Microcontrollers or even with normal Digital/Analog IC

Small, cheap and easily available
Brief about Soil Moisture Sensor Module
This Moisture sensor module consists of a Moisture sensor, Resistors, Capacitor, Potentiometer, Comparator LM393 IC, Power and Status LED in an integrated circuit.

LM393 IC
LM393 Comparator IC is used as a voltage comparator in this Moisture sensor module. Pin 2 of LM393 is connected to Preset (10KΩ Pot) while pin 3 is connected to Moisture sensor pin. The comparator IC will compare the threshold voltage set using the preset (pin2) and the sensor pin (pin3).
Moisture Sensor
The moisture sensor consists of two probes that are used to detect the moisture of the soil. The moisture sensor probes are coated with immersion gold that protects Nickel from oxidation. These two probes are used to pass the current through the soil and then the sensor reads the resistance to get the moisture values.
Preset (Trimmer pot)
Using the onboard preset you can adjust the threshold (sensitivity) of the digital output.
How to Use Soil Moisture Sensor Module
Moisture sensor module consists of four pins i.e. VCC, GND, DO, AO. Digital out pin is connected to the output pin of LM393 comparator IC while the analog pin is connected to Moisture sensor. The internal Circuit diagram of the Moisture sensor module is given below.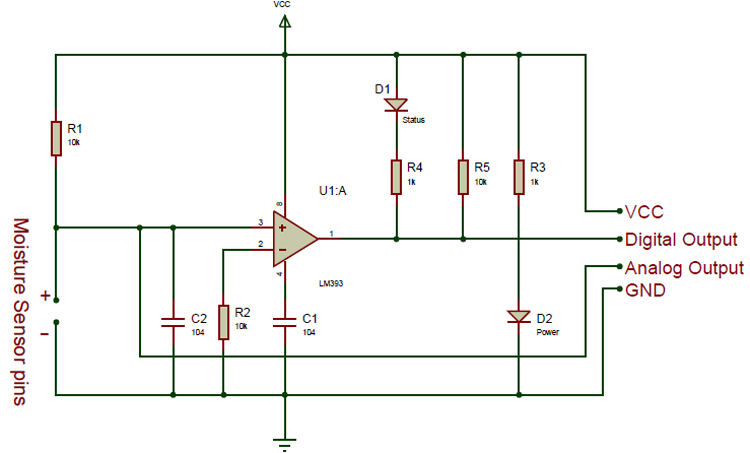 Using a Moisture sensor module with a microcontroller is very easy. Connect the Analog/Digital Output pin of the module to the Analog/Digital pin of Microcontroller. Connect VCC and GND pins to 5V and GND pins of Microcontroller. After that insert the probe inside the soil. When there is more water presented in the soil, it will conduct more electricity that means resistance will be low and the moisture level will be high.
Applications of Soil Moisture Sensor
Gardening
Irrigation Systems
Used in Controlled Environments
BME680 Digital Humidity Temperature Pressure High Altitude Sensor Module
₹ 1,999.99
₹ 3,200.00
The long awaited BME680 from Bosch gives you all the environmental sensing you want in one small package. This little sensor contains temperature, humidity, barometric pressure, and VOC gas sensing capabilities. All over SPI or I2C at a great price! Like the BME280 & BMP280, this precision sensor from Bosch can measure humidity with ±3% accuracy, barometric pressure with ±1 hPa absolute accuracy, and temperature with ±1.0°C accuracy. Because pressure changes with altitude, and the pressure measurements are so good, you can also use it as an altimeter with  ±1 meter or better accuracy! The BME680 takes those sensors to the next step in that it contains a small MOX sensor. The heated metal oxide changes resistance based on the volatile organic compounds (VOC) in the air, so it can be used to detect gasses & alcohols such as Ethanol, Alcohol and Carbon Monoxide, and perform air quality measurements. Note it will give you one resistance value, with overall VOC content, but it cannot differentiate gasses or alcohols. Please note this sensor, like all VOC/gas sensors, has variability and to get precise measurements you will want to calibrate it against known sources! That said, for general environmental sensors, it will give you a good idea of trends and comparisons. We recommend that you run this sensor for 48 hours when you first receive it to "burn it in", and then 30 minutes in the desired mode every time the sensor is in use. This is because the sensitivity levels of the sensor will change during early use, and the resistance will slowly rise over time as the MOX warms up to its baseline reading. For your convenience we've pick-and-placed the sensor on a PCB with a 3.3V regulator and some level shifting, so it can be easily used with your favorite 3.3V or 5V microcontroller. Specifications Resources Datasheet Library Sample Code Tutorial
Dot Laser Module
from

₹ 249.99

₹ 245.00
Details: Output: red dot (650 nm). Size: Φ 12.0x35mm. line length: about 135mm. Net weight: 13.5g. Voltage: 3.0 v-5 v. Current: 40 mA (maximum). Purpose: industrial positioning.   Applications: It can be used to aim for positioning Can be used for laser test instruments Can be used for concentricity positioning Can be used for positioning medical equipment Can be used for signal equipment production Specifications Resources Datasheet  
6 DOF Robot Arm - Metal Alloy Mechanical Arm Kit
₹ 9,799.99
₹ 15,995.99
Metal alloy mechanical arm with 6 Degree Of Freedom. The kit is delivered in a simple carton. The subassemblies are packaged in separate bags. The structural elements of the robotic arm are made by stamping aluminum plate. To give a better appearance and deburr the edges, the pieces are sandblasted. Black anodising (visible on the assembly instructions) has been abandoned.  Positive point of this kit, we find very easily spare parts. Most structural elements, servo motors MG996R, flanged base, clamp (or claw) are standard elements that are found very often our store. This kit with 4x MG996R Servo Motors, and 2x DS3115MG Servo Motors NOTE: Use DS3115MG Motors for high load sections on the Robot Arm. Specifications of DS3215 (15kg-cm Large Torque Digital  Servo): Stall Torque (5V): 19 kg/cm (263.8oz/in) Stall Torque (6.8V):  21.5 kg/cm (298.5 oz/in) Speed : 0.16 sec/60°(5V) / 0.14 sec/60°(6.8V) Operating Voltage: 4.8 ~ 6.8 DC Volts Dead band: 3μs     Weight: 60 g (2.12 oz) Motor Type: DC Motor Gear Type: Copper & Aluminum Working frequence: 1520μs / 333hz Size: 40 x 20 x 40.5 mm ( 1.58 x 0.79 x 1.60 in) Specifications of MG996R: Dimension : 40mm x 19mm x 43mm Net weight: 69g Color: Black Operating Speed : 0.17sec / 60 degrees (4.8V no load) Operating Speed : 0.13sec / 60 degrees (6.0V no load) Stall Torque : 13 kg-cm (180.5 oz-in) at 4.8V Stall Torque : 15 kg-cm (208.3 oz-in) at 6V Operation Voltage : 4.8 - 7.2Volts Gear Type: All Metal Gears Resources Tutorial 
16340 Battery Shield for Arduino / Raspberry Pi
₹ 349.99
₹ 499.00
A carefully designed mobile power supply for your Arduino / Raspberry Pi projects. The mobile power is stacked on the for Arduino board and powered via the 5V/GND pin. We also provide a USB-A output interface that you can use to connect to other devices using a USB cable. The charging interface is micro USB, and any standard Micro USB charger can be used to charge the module. Lithium Battery Model: 16340Charging current: 500mADischarge current: 1000mAFeature:1. Adapter 16340 lithium battery2. 5V and 3.3V dual output3. Built-in lithium battery protection IC with overcurrent, overvoltage, undervoltage and short circuit protection4. Built-in battery anti-reverse protection5. The toggle switch can freely turn the output Specification Charging interface: Micro USB (Android port)Charging voltage: 4.5V -5.5VCharging current: 580mA maxOutput interface: 2.5mm header and standard USB socket5V output current: 1.3A max3.3V output current: 1.0A maxCharging indicator: red light during charging, full green lightProduct size: 60mm * 28mm * 16mm(L * W * H)
Secure Checkout
We are PCI-DSS compliant and use 256 bit SSL encryption.
Instant Dispatch
99% of our orders are shipped within 24 hours.
Bulk Orders
Use the contact form for bulk order quotes.
Call us (Weekdays)
+91 93183 94903