Arduino Mega 2560 Sensor Shield
SKU:
ARD2007
₹ 189.99
₹ 598.00
-69% OFF
This shield board plugs on top of an Arduino MEGA (1280 or 2560) and makes it easy to connect to all the MANY Digital Inputs and Outputs and the Analog Inputs. This is particularly good for Home Automation or other high I/O projects with many LEDs or controls where connections to the Mega can be a major problem.
For arduino it is an open source physical computing platform based on a simple I / O board and a development
Environment that implements the processing / wiring language.
It can be used to develop independent interactive objects or it can be connected to the software on your computer (eg flash, processing, MaxMSP).
The open source IDE can be downloaded for free (currently for OS X, Windows, and Linux)
The sensor shield allows you to connect to various modules such as sensors, servos, relays, buttons, potentiometers.
Mega Sensor Shield V2.0 pinout for the digital and analog arduino interface. 
Support of the I2C interface. 
Support 32 highway Servo Motor Drive shield interface. 
Communication interface support of the bluetooth module. 
Communication interface support of the SD card module. 
Support APC220 wireless rf communication interface modules. 
Support RB URF ultrasonic sensors interface. 
Support LCD serial and parallel interface. 
Support type interface and can be fully compatible for Mega arduino. 
Size: 10 cm x 5.5 cm
Specifications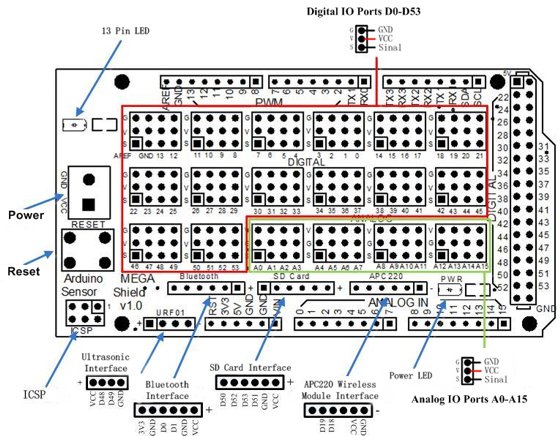 Resources
Tutorial
Secure Checkout
We are PCI-DSS compliant and use 256 bit SSL encryption.
Instant Dispatch
99% of our orders are shipped within 24 hours.
Bulk Orders
Use the contact form for bulk order quotes.
Call us (Weekdays)
+91 93183 94903